This article describes how to add contacts and edit contact information in Konexus (known in the government sector as AlertSense).
Internal Members
An Internal Member is an individual who can receive alerts within your organization. Their only role is to receive and respond to alerts sent through Konexus.
These members won't be able to initiate an alert. A separate entry will need to be made for any Internal Member who will also be an Administrator. That entry is made under Administrator Passwords.
An organization can manage unlimited Internal Members. Member information includes critical contact paths such as email, text and voice devices, priority of devices, and group membership.
Accessing the Internal Members Page
To access the Internal Members maintenance page, select Manage Contacts from the drawer menu.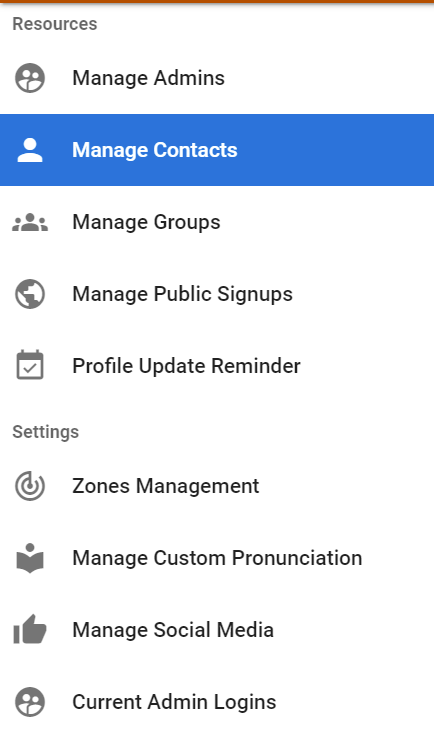 Adding a Contact
Click the Add Member tab.
Complete the form with or without the optional fields. Required fields are marked by an asterisk.
Chose a User type. This will automatically default to Internal if one is not chosen.

Chose the User's preferred written language.

Include the following for best delivery results:
Email
Cell Phone
Secondary Cell/Pager
Home Phone
Business Phone


You do not need to know who the provider is for the cell phones that you enter. Simply click the Find Provider link next to the Phone fields to have us find the provider for you. If the provider is not populated, select the proper provider using the dropdown menu.

Assign the New Member to the groups that they should be associated with for alerts and notifications by single clicking the group on the left, under
Available Groups
. This will add them to the group. All groups on the right, under
Selected Groups
, are assigned to the New Member.
To remove a contact from a group, single click on that group under Selected Groups to move that group back to Available Groups.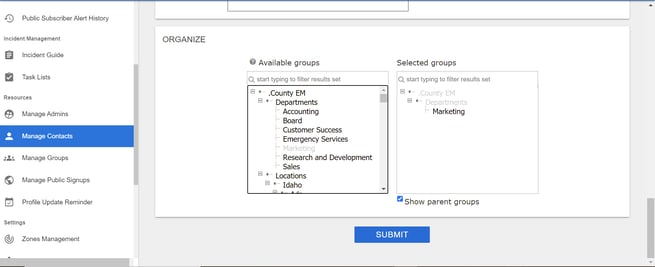 4. Click Submit to save the New Member to the system.
Please note, if a user texts the correct short code a keyword associated with a group, their phone number will be added to the system. If their phone number was not already in the system, they will be added as a contact with Text-To-Join listed as their last name and their phone number listed as their first name.
Editing Contacts
Modifying an Internal Member
Navigate to Manage Contacts from the Dashboard and use the search fields to locate the individual by searching for their name, email address, cell phone, or agency.
Click Enter on your keyboard or FIND on the right-hand side of your screen.
Once you have located the Internal Member, you can modify any information as needed.

You can edit a member's status to indicate that they are available, unavailable, or on vacation.

At the bottom of the screen, you can also see all the alerts that Member has received and click each alert for more details.


Email Opt-ins

Emails sent through the system will contain an unsubscribe link. Clicking the link prevents emails from being sent until the unsubscribed email is resubscribed.

Users who have unsubscribed from public alerts will not receive emails. Likewise, emails will not be sent to users who have not opted in to receive them.

Administrators can see whether an Internal/Public User has opted out of receiving emails by unsubscribing.


Deleting an Internal Member
Locate the member using search tools.
Click the link on the right-hand side. A pop-up will ask you to confirm that you want to delete the member.
Caution: Once members are deleted, you will not be able to select them to receive alerts. The Alert History will show a grayed out name for that individual for any alerts they received in the past to maintain the data's integrity.
Export or Upload Member Lists
You can export Group and Internal Member lists by using the Member List Download.
You can upload lists that you create using the Member List Upload

link. There are details and a sample file you can refer to if you wish to maintain lists using this feature.
Warning: If contacts and admins are managed through one of our automated or FTP upload processes, the Member List Upload feature should not be utilized.