This article will describe how to manage your AlertSense profile's social media accounts.
Updating Current Social Media Accounts
From the drawer, click Manage Social Media.
Any social media accounts that have been set up will appear in this section.
Note: Accounts that need to be re-authorized (Facebook only) will display in red. A link is provided to re-login to each account to validate permission to post.
If necessary, you can also delete accounts from the Social Media Accounts by clicking the Delete link.

Adding a New Social Media Account
To add a new Social Media Account from this section, simply click the Add New Social Media Account link.

From the Add a New Account screen, choose whether you are adding a Facebook or Twitter account. Don't worry, you can add as many of each type as needed.



Warning: Be sure to select the PAGES that you have access to with your Facebook login so alerts will not be posted to your personal account.
To authorize and associate a new Facebook account, click the Add button next to Facebook under Account Type.
Once you click Add, a pop-up will appear prompting you to login to Facebook.

Note: If you do not see this pop-up, be sure you have pop ups enabled for this page.
Follow the prompts to select the page you want to authorize AlertSense to post to.
Manage the actions that AlertSense will be allowed to do with your Facebook page by using the toggle button to enable or decline specific options.
Note: AlertSense may not work properly if you turn off these actions.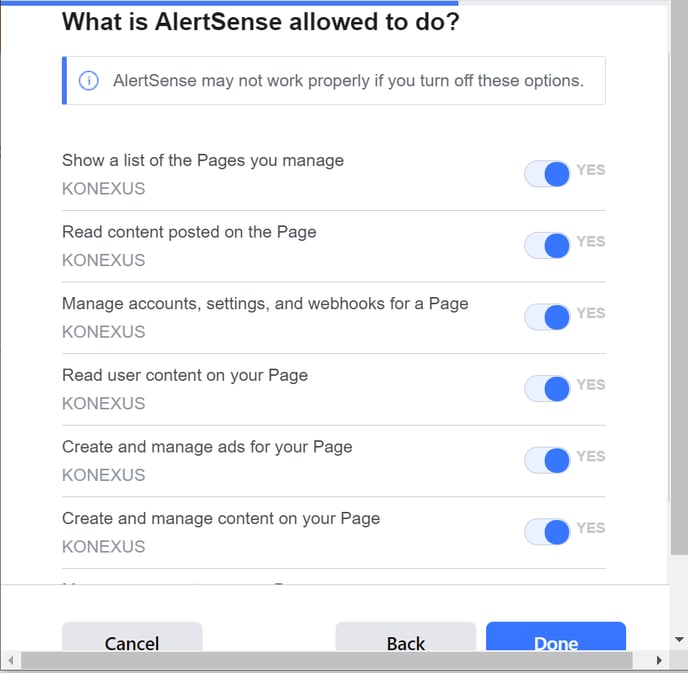 Make sure to click OK once the pop up states "You've now linked AlertSense to Facebook" to complete the last step.
Twitter
When adding a Twitter account, only the login username and password is prompted.

Sending an ETN through Social Media Channels
Once social media accounts are added, you can include those accounts with any Public or ETN Notification by checking the box next to the social media accounts you want to include with the alert. To learn more about sending an ETN through social media channels, read "How to Send a Public Notification via ETN and Social Media."