This is an overview of managing groups within a directory. You will learn how to create nested groups, associate groups to a directory, and best practices for Managing Groups in a Directory.
Overview
Groups are a great way to place your contacts into a logical organizational structure to make communicating with right people quick and easy.
Group structures (or group trees) can be as simple or complex as you need them to be. When creating your structure, you want to think about your alerting use cases and how the groups you create can get you to the correct set of contacts as quickly as possible.
For example, if there is a need to communicate with individual departments or teams, you might consider creating a group structure that contains a child group for each major department within your organization. Likewise, if you want to be able to communicate with your public subscribers about common weather or community events, you may create groups within your Public Directory that reflect the various common events that impact your community.
See the Directory Management Overview article for answers to common questions and other helpful tips.
Where do I Manage my Groups?
Directory Group Management can be accessed via the left-hand navigation under Resources > Manage Directories. Each of the available directories will contain a Groups link where you can view your existing group tree, create new groups, and manage existing groups.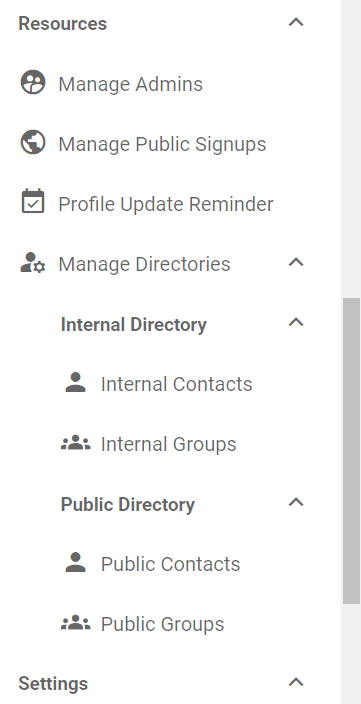 Using the Group Management Interface
When managing groups within a directory there are many helpful tools readily available. From the Group Management page, you can:
See high level information about your group structure.